The Geijer Rombo family
Last updated dec 28 2007

Most Welcome to a short description of the Geijer family villa in Enskede, Stockholm, Sweden! This page is mainly intended for intervac members interested in an vacation residence exchange. We will try to update, especially with more photos, continously. Don't hesitate to contact Mikael on mikael@oebb.net if there are any questions.

Well met!


About the house
Our home is a red wooden villa built 1909 in one of the first suburbs just south of Stockholm. The area is called "Gamla Enskede" meaning "Old Enskede" and was planned and partly financed by the government of Stockholm. The area conscist of a mixture of villas, "pair"-houses, english inspired terraced houses and apartment blocks all built between 1908-1910. Our house is in the middle of this area just across the street from the church and far away enough from the traffic to get a quiet environment.
Our house has a small but quite private garden mainly on the back of the house with afternoon and evening sun. We sometimes have visits from some wild roe dear who eat all the good tasting flower buds in the neighbourhood. There is also a small terrace on the back suitable for having a drink or dinner outside.
There is an old garage but it's mainly used as storage space.
Inside you'll find two storeys plus a basement.

First floor
The first floor have a kitchen, a living room, a toilet and a "guest room". The guest room has a modern bed-settee w 140 cm matress, stereo and an broadband connected computer. The living room has TV with a htpc connected (DVD, surround etc) and a traditional vcr (VHS) and a "kakelugn" (dutch tiled fireplace). All machinery is available for use - including the fireplace. The kitchen is not top modern but fully equipped with washing machine, micro, freezer/fridge a modern electrical stove and an old combined gas/wooden stove (use it if you dare :-)) .

Second floor
The second floor have three bedrooms and a bathroom. One master bedroom with a 160cm double bed, one bedroom with a single 90 cm bed (full length) stereo and internet computer, and one bedroom mainly for kids with a two storey bed and a lot of toys.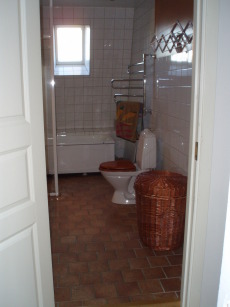 There is a quite new bathroom with both a shower place and bath tub as well as a washing machine and a tumble dryer.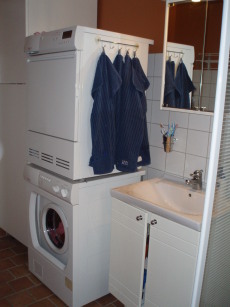 Basement
Is mainly used as storage, but there is a workshop some office details and the central heating system.
Communications
It's really hard to get closer to Stockholm without living in the actual city centre. There is a 7 min walk to a choice of two different metro lines that will both take you (12 min ride) to the city centre (Central station). The metro leaves at least every ten minute. You could take the bike 3 km to "Södermalm" where the actual central Stockholm starts or 6 km to the city centre (about 20 min on bike). We have two modern adult bikes and two less modern that are available. There are also some kid bikes suitable for a 13 and 8 year-old (including a one-wheeler :-).
Nearest airport is Arlanda trafficed by all major airlines (about 40 km by car). Skavsta airport (trafficed by Ryan Air) is about 100 km. There are buses going from the city center to both airports. To and from Arlanda is a high speed train (20 minutes) leaving every 15 minutes.
We're open to lend out our car. It's not really top class but working fine. A 1992 Volvo 745 station wagon 5 door with lots of space and everything you would expect (servo, stereo, central lock, ABS-breaks, no A/C though).
What is there to see and do?
I guess you'll find most information on various sites and guide books about Stockholm. But beside just enjoying the beauty of Stockholm, I wouldn't miss the Wasa museum, Skansen and a boat ride out in the archipelagor just outside Stockholm (get as far out as you can). We have some guide books an leflets available in english and would be happy to

There are some lakes that you could bike or take the car to.
You can actually fish salmon in central Stockholm.
Good jogging, tennis/raquet arena.

Some (old) pics of our house and family:

| | |
| --- | --- |
| Mimmi | |
| Kids: Matilda o Mina | |
| Livingroom view 1 | |
| Livingroom view 2 | |
Some facts
Adress is Kyrklunden 8, 122 32 Enskede. Residence phone +46 (0) 8 600 01 03
A google maps link is provided here
A Google Earth Tag can be found here.You need Google Earth from earth.google.com to view it.
Number of permanent beds are 7 (including 2 double beds). There is one extra foldable bed available if needed.
Visa större karta